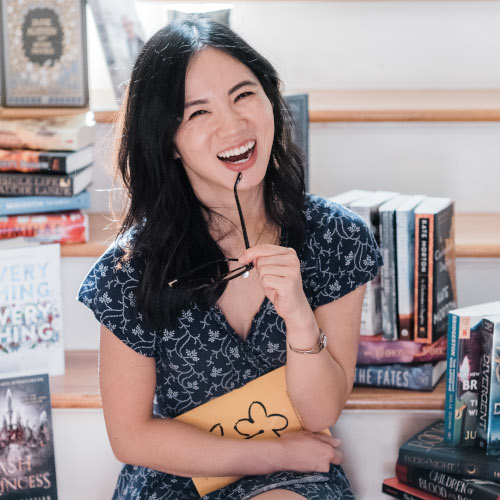 Website:
https://www.carolinemtell.com
Twitter:
@carolinemtell
Instagram:
carolinetellstories
2023 Annual Contest Editor ✓
Mini-Event Editor ✓
Bio
Caroline M. Tell is a freelance novel editor specializing in YA, fantasy, and romance. She's an avid reader and a writer of her own fictional tales. As an editor, her philosophy is to draw out the very best in her clients' works and to figure out what makes a story truly shine. Whether that's tightening up the prose, making sure the story makes sense, or simply keeping track of grammar and language usage, her goal is to help authors create stories readers will love.
Before book editing, she worked as a freelance communications consultant for nonprofits and created content for two publishing websites that cover news and data within the trade book industry. When she's not reading clients' works or dreaming up new story ideas, she's either drinking coffee, laughing with her friends, or watching k-dramas and animes with her two fur-babies, Ollie and Teak.
Pronouns: She/Her
MSWL
For my first ever #RevPit year (2023), I'm looking to fall in love with new worlds or ideas. Extra kudos if those worlds or ideas feature strong characters who actually fall in love.
My preferred genres are:
YA fantasy – especially about princesses and princes, unique magic systems, or clever twists on mythology and fairytales.
Sci-fi – anything strange and otherworldly is my kind of jam. Adventure and romance are a must.
Romance – historical or fun contemporary. Regency-era and Victorian are my favorites.
Loves: fun, creative worlds; strong female leads who fall in love but have other goals too; action-adventure; manipulation plots; heart aching, world-changing character arcs; and bigger-than-life concepts that make me think deeper about the world.
Not looking for: middle-grade, horror, heavy adult fiction that mirrors the real world too much.
Q&A
How can a manuscript's first five pages make you sit up and take notice?
A punchy first line/paragraph that dives right into the character's head.
Mastery over POV and has clearly defined goals, conflict, and character motivations.
I can follow the character's logic and reasoning smoothly without asking myself why.
When the characters are doing something to go after their goals and are not just reflecting/thinking about them.
When the story doesn't start too early or too late.
What can writers expect from working with you during #RevPit, including communication?
To me, storytelling is as much a creative art as it is a science, and part of ensuring that the creative flame in a story doesn't go out is by sticking to the author's original intentions. That's why, when working with authors, I like to ask a lot of questions. I practice open communication and encourage authors to share their ideas, goals, and intentions for their story. I then try to incorporate their goals and ideas into my feedback and edits, staying true to their vision of the story while also coming up with solutions to improve it. I'm very passionate about helping writers get the best versions of their stories out into the world and will work with them to make their stories shine.
What do you expect from writers during the #RevPit revision process, including communication?
I'm a very easy-going person who can work with just about anyone. I work best with writers who are passionate about the craft and improving their stories as well as displaying a level of professionalism that matches my own. I'm happy to answer any questions they might have about my edits, the craft, or the editing process in general and highly encourage them to learn as much as they can. My favorite part about working with writers is coming up with new ideas and incorporating them into their stories.
Email is the best way to reach me. I'll try to get back within 48 hours, but sometimes my multiple day jobs takes all of my time and focus away, so forgive me if it's a little longer. After winners are announced, I'll be sending the winning author a questionnaire to fill out. I'll be happy to set up a Skype call too to discuss the editorial timeline.
What hobbies do you have outside of writing and editing?
I enjoy lazy mornings drinking coffee, taking long walks with my dogs, working out, going shopping, or knitting (though I admittedly haven't knit in a long time). I'll occasionally go to a pole dance class and visit another country with my dad, but ever since covid, books and writing have been my main source of recreation and travel.