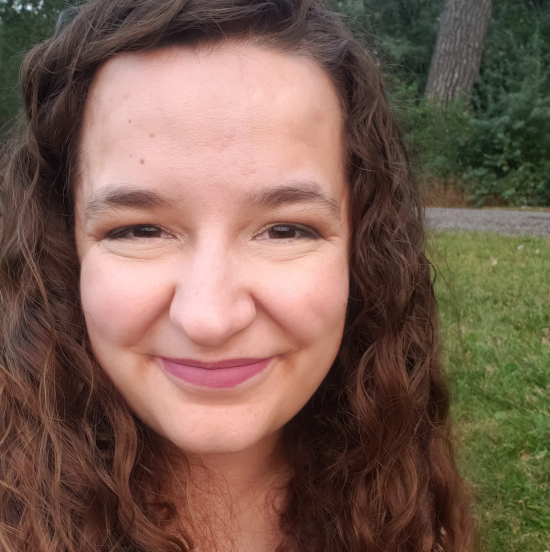 Website:
https://kyramnelson.com/
Twitter:
@KyraMNelson
2023 Annual Contest Editor ✓
2022 Annual Contest Editor ✓
2021 Annual Contest Editor ✓
2020 Annual Contest Editor ✓
2019 Annual Contest Editor ✓
Mini-Event Editor ✓
Bio
Kyra Nelson is an author, freelance editor, and data analyst. She is a recovering academic who has studied linguistics, editing, literature, and rhetoric. As a graduate student, she researched the language of fiction and query letters, with a special emphasis on young adult literature. Before becoming a freelance editor, Kyra spent several years interning at a literary agency and working in house for various publications. She has also taught university courses in composition, grammar, and editing.
Kyra is a recurring character on the WordNerds vlog. She likes keeping busy whether she's reading, writing, baking, hiking, or just goofing off with friends. Kyra loves adventure, even if it's a small adventure like roasting Starbursts over the open flame of her stove top.
Pronouns: She/Her
MSWL
This year I am focusing on YA books! I am open to all genres. Across genres, I'm particularly interested in character-driven stories.
Contemporary is probably where my tastes are broadest. I'm really pretty much open to anything contemporary! Romcoms in particular are a favorite of mine, but I've never worked with one for RevPit, so that's very high on my list this year.
For fantasy, I'm especially looking for character driven books. I gravitate more towards second world/epic fantasy over contemporary fantasy (but am open to contemporary fantasy with a really strong commercial hook!). What I really most desperately want in fantasy is something fun. I'd love a good light-hearted fantasy. Something that doesn't take itself too seriously and feels like a romp. I want to see strong internal stakes, distinct characters. If you are writing a fantasy romance or fantasy romcom, pretty please send it to me. I'd also appreciate fantasy with a fresh setting. A chosen one story or a story solely focused on overthrowing a regime isn't an instant no, but would be a harder sell for me.
Science fiction has a lot of untapped potential for YA! I'm open to a pretty broad range of stories in this realm, but am most interested in stories where character doesn't take a backseat to worldbuilding. Time travel is a hard sell for me. I'm open to both stories about dire, dystopian futures and escapist adventures. As with fantasy, I'd love a story with heaping doses of fun and shenanigans.
For historical fiction, I'm looking for untold histories. This can be based on historical events that aren't talked about much or told from perspectives that have been ignored in the past.
In mystery/thriller and horror I'm quite picky. These might be a better fit for another editor, but I'll consider it if it has a really fresh premise or a really unforgettable protagonist, or if it hits other items on my wishlist.
For all genres, I welcome stories from authors who have often been excluded from publishing. I'm happy to see stories from authors who are BIPOC, queer, disabled, fat, religious minorities, or otherwise marginalized.
Some things I'd love to see in any genre:
Banter and witty dialogue
Humor
Ensemble casts with big personalities and found family
Stories that focus on friendship, familial ties, or other types of platonic love. Romance isn't a necessity for me!
Sunshine x grumpy
Enemies to lovers (especially love with forced proximity trope!)
Friends to lovers
Sassy characters
Cinnamon roll characters
Characters with swords or knives
Cunning characters
Geeky characters
Stories set outside the United States
Activist main characters
Extracurricular activities and after-school jobs
Revenge stories
Main characters who are famous or go viral
Body positivity and fat liberation
Genre-bending and quirky plots
Characters who can be compared to Peggy Carter, Wednesday Addams, Zuko, Loki, Elizabeth Bennet, Kaz Brekker (or any of the Crows), Dick Grayson, Barbara Gordon, Kamala Khan, Enjolras, Cisco Ramon, Elle Woods, Tadashi Hamada, or any character who could be played by Dwayne "The Rock" Johnson.
I am NOT a good fit for
Westerns
Third person and present tense used simultaneously (third person/past tense is fine and first person/present tense is fine)
Books where the protagonists are animals
I'm pretty picky about second chance romance, but if it fits other things on my wishlist, I might be interested.
I'm very picky about fairy-tale/folklore/mythology retellings. I am interested in under-represented fairy tales, though. So if it's been made into a movie by Disney or Barbie, I'm probably not the right person. Retellings of classical literature are fine… except for Romeo and Juliet.
Q&A
How can a manuscript's first five pages make you sit up and take notice?
If I feel like I know the character after five pages, I'm probably hooked. I'm all about distinct voices and compelling characters, so if I've already got a sense for your character's personality after five pages, I'm probably interested!
What can writers expect from working with you during #RevPit, including communication?
My approach to editing is very focused on author vision. I always want to see what the author envisions for the book and then work with them to get the manuscript to that place. I never want to turn the book into my thing, so I'm always checking in with authors to see how they feel about the suggested changes and proposing different solutions if something isn't clicking.
I'm also very solutions focused and try to make my feedback concrete and actionable. I don't just want to analyze what isn't working, I want authors to have a game plan and feel confident that they can take the next steps.
In terms of communication, I lean towards email, though I am open to doing a video chat to talk about the edit letter. I tend to respond fairly quickly, though have a bad habit of tackling my inbox at weird hours of the night. You'll also be subject to my ~unique~ sense of humor.
What do you expect from writers during the #RevPit revision process, including communication?
I'm looking for an author who is serious about craft and eager to make their project the best it can be. I also want my author to work hard while still making room to take care of the mental, emotional, and physical health. I'm not going to be overbearing, but I do want an author who will make the most of the time and resources I give them. That balance is important to me. Like, I said, I'm an email person but I don't need immediate responses.
What hobbies do you have outside of writing and editing?
Embroidery, spending time outdoors, and baking. In high school and college I did like 500 extracurriculars, but I'm much more boring now.